What if you could naturally lower your blood sugar by 
50-100+
points
 in as little as
 5 days?


Well... now you can!
-with the 5 Day Blood Sugar Reboot!
This 5 day transformative reset 
is
for individuals living with pre & type 2 diabetes who want to:
Gain 
a thorough 
understanding 
of diabetes and how to 
Quickly
 and
 efficiently
 lower your blood sugar levels
Naturally keep your blood sugar in a healthy range-
long term
Reverse
 insulin resistance using 
food
 as medicine, 
eliminating 
the need for diabetes medications


Eliminate waste so you can 
Increase
 your energy levels, 
improve
 digestion & 
reduce
 inflammation in your body
And ultimately learn the foundations of 
real, long-lasting, sustainable
 health & wellness that caters to your mental, physical and emotional 
wellbeing

The 5 day Blood Sugar Reboot contains 5 pre-recorded masterclasses that will teach you how to get back to the basics of nutrition & sustainable lifestyle changes so you can begin healing your body from the inside out- following a proven step by step structure & meal plan.
What You'll Learn:
Day 1- Sleep & the circadian rhythm
Day 2- Stress Management 101
Day 3-The Role of Food & Understanding Macronutrients
Day 4- Meal Building & Food Pairing
Day 5- Herbs & Supplements for Diabetes + Making it a Lifestyle
The Recordings total to around 5.78 hours of training


-- You will have lifetime access to these recordings --
Meet Your Instructor:
Hi, I'm Medina, Functional & Holistic Nutritional Therapy Practitioner and Diabetes Specialist.
In 2016, I was diagnosed with Gestational Diabetes and that was the experience that set my entire world on fire. Chronic stress, depression, anxiety that was mostly triggered by food, existing on the blood sugar roller coaster of no sleep, constant grind and low self worth… I was miserable. 
After overcoming my own blood sugar crisis, I went on to teach thousands of others how to take back control of their health by incorporating REAL food and SUSTAINABLE lifestyle changes so they could NATURALLY balance their blood sugar and eventually experience complete LIBERATION from the weight of diabetes. 
Now I've taken only the most important foundational tools and turned it into a 5 day blood sugar reset! This reset is a mind, body and spirit transformation that will jumpstart your journey to dominating diabetes and creating a lifestyle that will reap monumental results for YEARS to come! 
My wish for you is to restore complete confidence in your body's ability to heal itself. I have structured this reset to get you the best results as quickly (& safely) as possible.
I can't wait to see you transform your blood sugar in only 5 days!
Divine Light, Medina
_________________________________________________________________
I have been certified through the Nutritional Therapy Association to be able to successfully teach you the details outlining this reset. 
Use this Image with Text block to balance out your text content with a complementary visual to strengthen messaging and help your students connect with your product, course, or coaching. You can introduce yourself with a profile picture and author bio, showcase a student testimonial with their smiling face, or highlight an experience with a screenshot.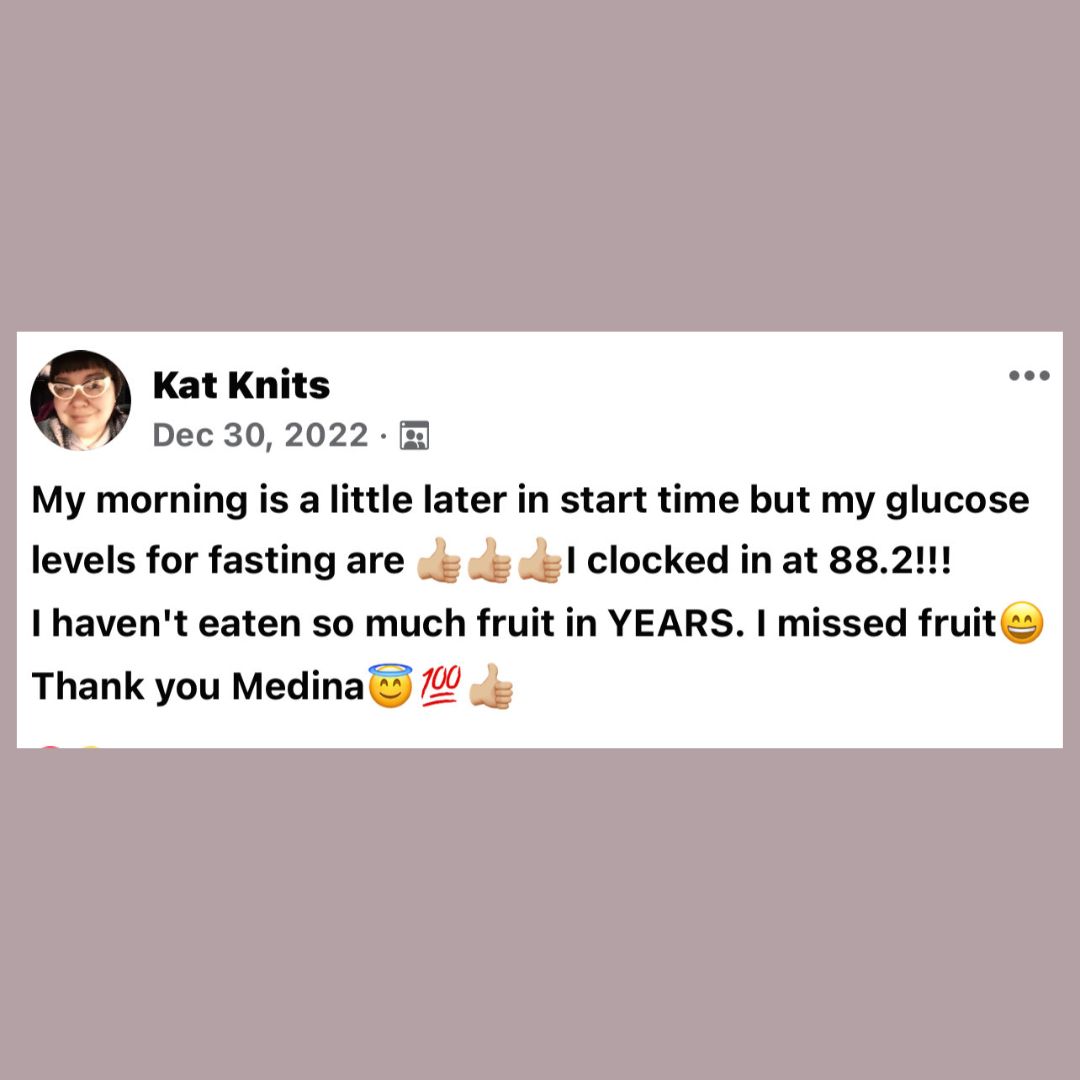 The reboot really reset my body
The reboot really helped me to reset my body! I've been consistent with having healthy fasting blood sugar readings since December!
Even when I got wobbly with my glucose one weekend (because I had nacho fries Friday & Sunday), I started getting it together on Sunday afternoon & by Monday morning my blood sugar was 102!
Thank you Medina !

The 5 Day Blood Sugar Reboot allowed me to prove to myself that:
1: I have more willpower than I thought
2: My motivation wasn't the issue. My Challenge= Consistency
3: I am capable of making better food choices.

If I could offer a suggestion to anyone hesitating to begin the challenge… Invest in yourself!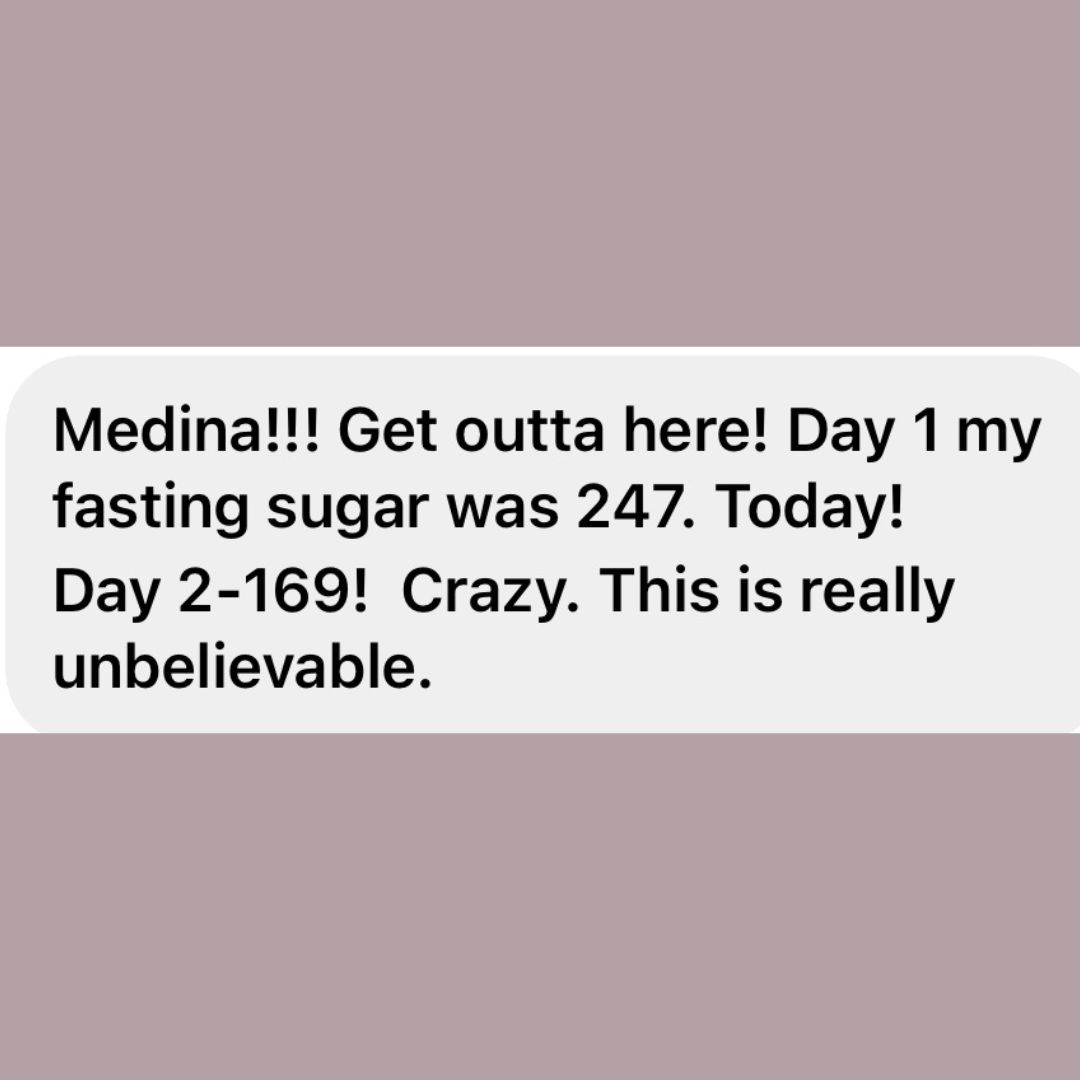 Ahhh!! I just left my doctor earlier this week. She did an A1C, Cholesterol and metabolic panel this week. A1C is down from 11 in April to 6.3 now! After weeks of being high and creeping at 200 for a few days, I finally broke through with the fasting bs of 150!

An Invaluable Investment
I am so excited! On Monday (Day 1) my fasting BS was 146; Tues fasting BS 137; Wed fasting BS 112!!!!!!!!!!!!!! 112... I almost did a backflip! I was in here doing the happy dance and thinking about how great this program is! THANK YOU THANK YOU THANK YOU!!
My blood sugar journey was chaotic. I felt overwhelmed because I thought I was doing things correctly and then would get my A1C tested and would be devastated. Right before joining the reboot the endo prescribed an injectable. I filled the prescription, but I didn't want to take it because I know it wasn't going to solve the real issues. Medina did a live about the reboot and I felt inspired. The reboot put everything into perspective and gave me a plan that I could put into practice. I realized that this wasn't just a food issue, but a whole life issue and now I have the tools and confidence to be consistent! Thank you ❤️
10 out of 10! Medina is personable, compassionate, passionate and delivers information that is receivable and digestible. You can tell that she cares and that she is invested in wanting to see others win! She has a great personality ❤️
The content and time frame were spot on. It's an a valuable investment for their nutritional, physical and mental health.
Medina and the content are awesome. I also appreciate her knowledgeable yet, non condescending nature. Her passion and her heart for empowering people with this knowledge shines through!
~Keisha Parker



I have started decreasing my meds...
I didn't take my blood sugar the first day. Day 5 I took it in the morning and it was 95! My diabetic journey has been up and down. I had it all wrong. I was avoiding carbs and sticking with proteins and vegetables. I recently had to have 2 stent put in. One in my heart and on in my leg. My world has been shattered not knowing what to eat. At my whits end I decided to listen to the replay of this program. It has been an eye opener for me. I am realizing I can eat FRUITS AND CARBS! My confidence moving forward is very good. I have started decreasing my meds and I am confident I can get off my meds later in 2023. I would rate the live lecture a resounded 10! I have learned so much. It was a big boost for me and I have started incorporating the ABC you talked about. The lectures with the topics you have covered was very eye opening for me and has given me a boost of confident to go back and do the full Dominating Diabetes that I had signed up for earlier this year.
I would rate Medina a 10+. Her delivery was great and she kept it very interesting and engaging. I have a new respect and extreme gratitude to you for opening my mind to a new way of getting my blood sugar under control. The experience and information was invaluable. Thanks for letting me be a part of this experience🌺
I am going to definitely tell and encourage a couple family members and friend to give it a try. Whoever I speak with with Diabetes issues I am going to share the information with them and encourage them to do the course. It was definitely an eye opener for me and thank you for your time and effort inputting this information together. I sincerely appreciate your help.

~Fauzia Abdur-Rahman


This is a very thorough course❤️I'm very satisfied!
Day one: 117 Last Day: 97. I've been enrolled with the Academy and have had great/steady success. I've also been off track for the last month since moving. The Academy provides guidelines that work and a framework that is easy to jump back into. The reboot is exactly what I needed to get back on track.
I feel very positive about going forward into 2023. The biggest thing for me is gaining fruit back into my life. Having fruit as part of my food selection is like having an added tool in maintaining my glucose levels.
I need the live lectures (in my case the recorded lives) The Q&A had me feeling like a part of the group even though it was recorded. I answered the questions & end up having all my questions answered/addressed. It's also nice that if I do have further questions Medina is available via social media.
100% 10! I am so happy with my experience I can't think of anything I'd add or change. This is a very thorough course❤️I'm very satisfied!
10/10 will recommend!!!
Keep doing what you're doing. I am so thankful for the education and help you provide with the Diabetes Academy. Thank you😇

~Kathleencearley
More than just a reboot
I can truly say that this week was more than just a reboot of my sugar but also my mind and my relationship with food. My numbers are significantly lower and I have not used short term insulin since day 1! I do find myself craving unhealthy foods but I have not been hungry so I talk myself out of over eating or eating unhealthily and drink some water. Thank you so much for your advice and willingness to share your knowledge. I am going to continue this program.
~Anonymous